---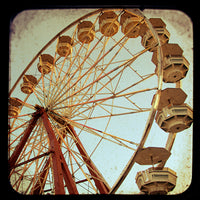 Memories of a sweet summer evening at the county fair.
Photographed using a combination of vintage and modern cameras resulting in a photograph that highlights the dust, scratches, and interesting bits that make vintage photographs so charming. The black border will be visible on your print.
8"x8" image, printed on 10"x13" Kodak Professional Metallic paper.
* Condition: Fair - There are a few small imperfections in the metallic coating of the print, but they are minor and should not be visible when framed. The price is discounted to reflect this damage.
Regularly- $35