---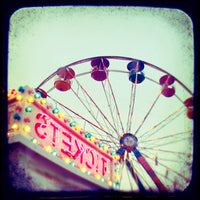 Memories of a sweet summer evening at the county fair.
Photographed using a combination of vintage and modern cameras resulting in a photograph that highlights the dust, scratches, and interesting bits that make vintage photographs so charming. The black border will be visible on your print.
All images are printed on premium quality, archival paper, for a photograph with sharp details, and stunning colors that will last a lifetime.